Description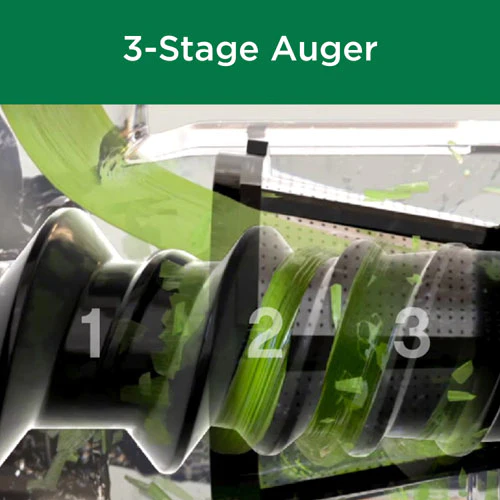 Omega NC1002HDC. Triple-stage masticating technology extracts the maximum amount of nutrients, vitamins, taste, and juice from minimum amounts of fruits, vegetables, leafy greens, and wheatgrass.
The adjustable end cap features three settings to get the most juice out of your fruits, vegetables, and leafy greens.
The NC1000HDS Juicer and Nutrition System can make more than just healthy and delicious juice. You can extrude pasta, make fresh baby food, juice leafy greens, vegetables, fruits, citrus, and more.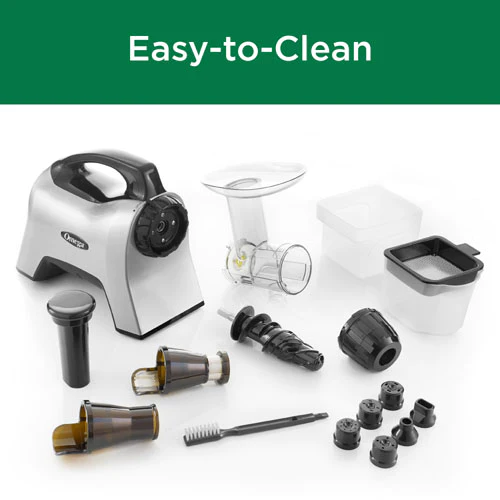 Clean up is a breeze because all the removeable parts can be sink rinsed or top-rack dishwasher cleaned.
Lower speed means less nutrient and enzyme destroying heat for a far superior health-boosting juice.
Less noise than high-speed juicers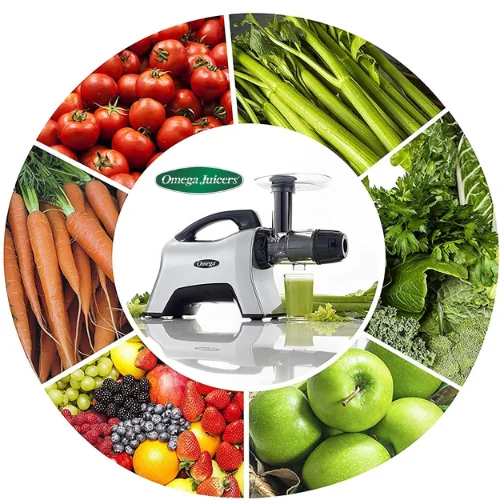 About This Item 
HEALTHY AND DELICIOUS JUICES: Omega NC1002HDC Extracts. the maximum amount of nutrients vitamins taste and juice from minimum amounts of fruits vegetables leafy greens and wheatgrass

BOOST YOUR IMMUNITY: Cold press juicing is one of the most effective ways to easily access nutritious enzymes and antioxidants that boost immunity and enhance overall health

LONGER LASTING JUICES: Using a low speed of 80 RPMs results in minimal heat buildup and oxidation promoting healthy enzyme

NUTRITION SYSTEM: Extrude pasta grind coffee and spices turn nuts into nut butter make baby food and frozen desserts mince herbs and garlic and whip up soy milk in a flash

FEATURES – High juice yield with very dry pulp, an automatic pulp-ejection function for continuous juicing, four stabilizing feet, and quiet operation

BPA Free – A great choice for the health-conscious individuals, The NC1000HDC Is 100% BPA Free for a juice that is richer in nutrition and promotes wellness

High Juice Yield Very Dry Pulp – Less Foaming Than Double Gear Juicers

INDUSTRY LEADING 15-YEAR warranty on motor & 2 Years on parts.

NC1002HDC Slow Juicer & Nutrition System
Premium Masticating Juicer
Omega's Nutrition Systems are "masticating-style" juice extractors and more!
A masticating juicer juices at low speeds minimizing heat build-up and oxidation. The auger system forces produce into a tight chamber, grinding and pressing the food to squeeze out the juice from items as fine as wheatgrass and leafy vegetables. Enjoy creating new recipes every day with your Omega Nutrition System Juicer! 
Fruit and vegetable juice, citrus and celery juice

Green juice and wheatgrass Juice

All-natural nut butters, nut millks, salsa, baby-food, sorbets

Homemade Extrude pasta & Noodles.