Omega Medical Medium Cold Press Juicer...
If people knew all the potent healing properties of celery juice, it would be widely hailed as a miraculous superfood. Celery has an incredible ability to create sweeping improvements for all kinds of health issues.
Celery Juice Stands Alone
Celery is truly the savior when it comes to chronic illness. I've seen thousands of people who suffer from chronic and mystery illness restore their health by drinking 16 ounces of celery juice daily on an empty stomach.
That's why long ago I started the movement of drinking pure, straight celery juice, and it's why I want to be sure people know how to use this potent drink correctly and successfully. Celery juice is most powerful when you drink it SOLO.
While it's great to consume other green juices or vegetables juices and add in items like spinach, kale, parsley, cilantro, or apples, drink those mixed juices at a different time than your straight celery juice. These blends function differently than what I'm recommending as your greatest tool for recovering your health: pure celery juice taken on an empty stomach. If you drink your celery juice first thing in the morning, it will also strengthen your digestion of foods you eat for the rest of the day.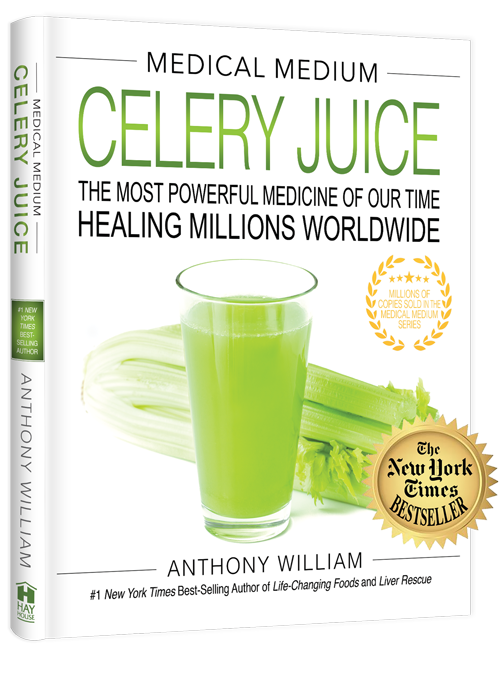 Celery Juice: The Most Powerful Medicine of Our Time Healing Millions Worldwide by Anthony William, Medical Medium
Find out for yourself what Celery Juice is all about:
In Celery Juice: The Most Powerful Medicine of Our Time Healing Millions Worldwide, Anthony William, the originator of the global celery juice movement, introduces you to celery juice's incredible ability to create sweeping improvements on every level of our health:
Healing the gut and relieving digestive disorders

Providing the brain with critical electrolyte support to counter disease

Balancing blood sugar, blood pressure, weight, and adrenal function

Neutralizing and flushing toxins from the liver and brain

Restoring health in people who suffer from a vast range of chronic and mystery illnesses and symptoms, among them fatigue, brain fog, acne, eczema, addiction, ADHD, thyroid disorders, diabetes, SIBO, eating disorders, autoimmune disorders, Lyme disease, and eye problems
After revealing exactly how celery juice does its anti-inflammatory, alkalizing, life-changing work to provide these benefits and many more, he gives you the powerful, definitive guidelines to do your own celery juice cleanse correctly and successfully.
You'll get instructions on how to make the juice, how much to drink, when to drink it, and what to expect as your body begins to detox.
Click here for more information or to order your Omega nc1002 Celery Juicer